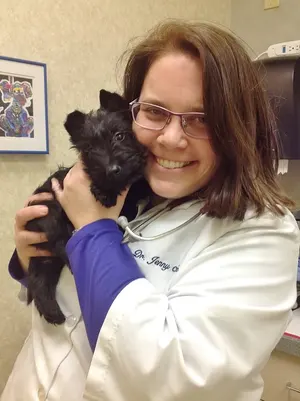 Welcome to our veterinary practice!

Our lobby is designed with separate entrances and waiting areas for cats and dogs to provide them with a low-stress environment. Please check in at the front desk when you arrive. If this is your first visit, please arrive 10 minutes early to allow time for paperwork or you can download and fill-out your New Client Info form prior to your appointment.
Please bring any previous medical records on your pet as well as information about your pet's current medications, specific diet, and travel history. You may find it helpful to take a quick photo of your pet's food and medications or supplements so that you can have them available during your visit. If you are new to our practice, please contact your previous veterinarian to have your pet's veterinary records sent to us via fax or email before your appointment time.
For routine wellness visits, we recommend bringing a fecal sample from your pet for parasite testing. Since some of the intestinal parasites pets can carry are transmissible to people, it is recommended that we test your pet's fecal sample at least once a year. This sample should be as fresh as possible, ideally no more than a few hours old.
If your pet is on any prescription medications, please give them as you normally would the day of the appointment. This will ensure that any lab work test results will be as accurate as possible.
If your pet is healthy, please bring them in hungry! We will use treats and snacks to make their visit a more positive experience.
Please make note of any concerns or symptoms you have noticed with your pet such as coughing, sneezing, vomiting, diarrhea, limping, behavior changes, etc. After completing a full physical exam, the veterinarian will work with you to formulate a treatment plan customized to fit your pet's specific needs. In some special circumstances, your veterinarian may refer you to a local specialist with advanced expertise in areas such as ophthalmology or surgery.
After returning home, your pet may be tired the rest of the day from the excitement of the visit - this is very normal. We will email or mail you a "Report Card" of your pet's visit detailing the physical exam, procedures done, and any preliminary test results. This will also include any recommendations or special instructions specific to your pet and information on any necessary follow-up appointments.
We are available by phone or email if you have follow-up questions or if any new problems or issues arise.