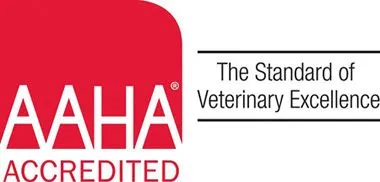 We are proud to be an accredited member of the American Animal Hospital Association (AAHA)

Only 12-15% of Veterinary Clinics in the United States and Canada meet this high standard of practice.
These standards pertain to facilities, equipment, practice methods, and management. The purpose of AAHA is to enhance the abilities of veterinarians to provide quality medical care to companion animals; enable veterinarians to successfully conduct their practices and maintain their facilities with high standards of excellence; and to meet the public's need as they relate to the delivery of small animal veterinary medicine.
For more information, visit: American Animal Hospital Association